The DENMARK Event 2002
by Ib Rasmussen
---
Thursday 1 August Arrival by ferry from Harwich: four Jowett Jupiters with Keith and Jenny Clements, David and Barbara Peacock, Angus and Shirley Bell, and Mike Smailes. Also 2 Jowett Javelins with Duncan Laing (and Jim Miller) and Geoff McAuley. Richard and Andy McAuley came by BMW. there to meet them were Poul Bertelsen and his daughter and some other Danish people. After some mechanical work on some of the cars, everyone drove to Hotel Gudenåen in Tørring. Later visited Poul Bertelsen place at Lindved where he showed his cars, then back to hotel Gudenåen to eat and sleep.
L to R: Keith & Jenny Clements, Mike Smailes, Angus & Shirley Bell
| | | |
| --- | --- | --- |
| | | |
Friday 2. August all together leave to visit Egeskov castle. and after some small problems with cars and maps but Poul was a great help here. Had lunch there. About 2 p.m.we all went to Fredensborg to stay on a hotel called country house. Than in own car to small Danish BBQ in the evening in DVK Car Club in Nivå together with Niels and Hanne Jonassen and some Danish owners of old cars.
Below top row: At the Country House hotel
Below second row: At the DVK Car Club Nivå
Saturday 3 August 10.15 Bus tour in a 1953 Renault. this was a tour of Copenhagen with own guide, starting in Air and Car museum. There we saw the Sommer-bodied S1 car with a Bradford engine and some special Danish-built cars and many aeroplanes. Then we took the coast road to Copenhagen and our guide, Claus Neble, showed us the whole town and some churches and a little car museum in Christiania where the Sommer Jupiter is stored and soon should be running after restoration. Then we ended in Tivoli, with dinner in Restaurant Grøften
Below: the little Renault; lunch at Christiana; 1899 Hammel car that has done the London/Brighton run
| | | |
| --- | --- | --- |
| | | |
Below: Rosenborg castle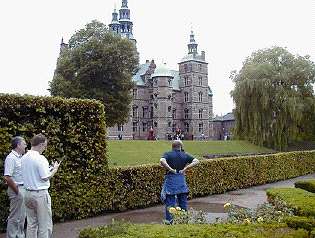 Sunday 4 August we drove the "Sommer DVK run", to the Ole Sommer Car museum in Nærum. Mr Sommer showed us all his cars. There were 28 old cars driving about 80 km in Copenhagen with lunch in the old town down by the river, and finishing in Carlsberg brewery, than back Grønholt and visit my Garage. Later we all drove to Helsingør Golf Club to the final farewell dinner to all who leave on Monday. Keith and Jenny and Jim Miller stayed on and visited some places in Nordsjælland.
Below - Sommer DVK Run before the start.
Top row: the Jupiters of Smailes, Clements, Bell
Second row: The Javelins of Laing, McAuley, with David peacock's Jupiter in the centre
Monday 5 August departed for the ferry, some visited my company on the way.
Wednesday 7 August the ferry brought Tom Chapman and with his friend Bernard Messingham in Tom's Jowett Jupiter, and John and Pat Rutter in a modern after problems with their Jupiter. They proceeded to the Country House.
Thursday 8 August Gustav Josefsson arrived in his Jowett Javelin and together in modern bus we did the "little Copenhagen Tourist tour" starting in my garage. Then again to Copenhagen with Claus Neble and again he showed his garage. Then we saw again the Sommer bodied Jupiter, and the Ole Sommer Museum in Nærum where there are 1 Javelin 1 Jupiter 1 Bradford and a special Sommer car with the Bradford engine, and about 35 other old cars. In the evening we dined in Bake (a mini Blackpool, Tom said).
L to R: Tom Chapman's Jupiter; group including Jim Miller (green shirt); Gustav Joseffson's Javelin from Sweden
Below: Two views of the Sommer-bodied Jupiter
Below: Dinner at Bakken in the sunshine; St Saviours's Church
Friday 9. August altogether 2 Jupiters, 1 Ford Cortina, and a Japanese car left for the Citroen Car dealer in Slagelse. Then we crossed the long Bridge and had lunch with a great view over the sea. Later Egeskov and a car museum, we now found "car heaven" upstairs an attic full of unrestored cars! About 5 p.m. we all went to Munkebjerg Hotel some visiting Poul Bertelsen Lindved and the day ended at a McDonald's to a late fast food dinner.
Top row: Keith Clements filling up; a happy Claus Neble
Second row: in Poul Bertelsen's garage; the Jupiters of Keith Clements and Tom Chapman
Saturday 10 August " Munkebjerg-run.
One hundred cars left from the hotel in groups, there was a Jupiter for the first time some yank tanks and a little Fiat 500 - there was some competition for cars and drivers, driving in some of Denmark's most beautiful countryside; we stopped for coffee and lunch. Owners group did not win but a prize to Tom Chapman for many km driving before coming here, he gave it (a cookbook) to Ib after everyone signed it. The organisers must have been pleased because everyone was invited to next year's hill-climb. Saturday evening we were invited to a big dinner in Hotel Munkebjerg an some ended the day in the Casino.
Top Row: the only (for the moment) Danish running Jupiter; lunch at Vejle Centre Hotel; a child with a dream!
Second Row: afternoon gathering; dressed for dinner; farewell nosh-up!
Sunday 11 August Following breakfast, people said their goodbyes after some great days, and Claus and I started the Cortina and drove the 350 km back home.
---
||Jupiter (cars!) photos||Jupiter Specification||Buy the Jupiter Book||Buy Crowood's Javelin/Jupiter Book||
||Magazine Page||Magazine Overflow||Main Index Page||Famous Jupiter Owners||
||Book List||Competition History||Production History||Jowett Genealogy||The Farina Jupiters||
||Spares and Services||A handbuilt car||Jowett Clubs||Le Mans Jupitour 2000||Blois Jupitour 2003||Jupitour 2006||Jupitour 2007||
||Interesting Jupiter links||Quirky Jupiter photos||A Jupiter travels to Hyères||
||Guest Book||